DUMPSTER RENTAL NORTH ANDOVER MA
Dumpster Rental North Andover, MA
Updated 2/7/19
Do you have lots of trash and debris? Doing a home remodel project? Downsizing? Moving? A Dumpster Rental from KT Cleanouts is the perfect solution. KT Cleanouts provides 10 cubic yard and 20 cubic yard dumpster rentals for homeowners, businesses, and contractors. Our rental rates are lower because we only deliver in the greater North Andover, MA area. Since our coverage area is smaller, we can get a dumpster rental near you faster.
About Roll Off Container Rental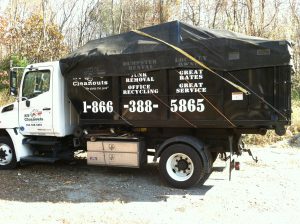 KT Cleanouts has the perfect size dumpster for large do-it-yourself clean outs. Because each project is different we offer two rental size options. Our 20 cubic yard dumpsters are great for a kitchen/bathroom demolition or remodeling projects. Our 10 cubic yard dumpsters are great for those smaller jobs, and they can hold about 3-4 pickup truck loads.
We're so sure of our pricing we're willing to post it on line! Our 20 cubic yard roll off container rental includes up to 2.5 tons for a 10-day rental. Our 10 cubic yard roll off container rental includes up to 1.5 tons for a 7-day rental. In addition, dumpsters can be rented on a monthly basis.
Our Dumpster Rental Rates Are Typically Less Than our Competition
20 Cubic Yards
2.5 Tons
10 Cubic Yards
1.5 Tons
10-Day Rental for 20 Yrd and 7-Day Rental for 10 Yrd
$505
$400
Extra Days

$10/ Day
$10 / Day
Extra Weight

$130 / Extra Ton
$130 / Extra Ton
With KT Cleanouts you can count on our safe, professional delivery and pickup. We'll always place boards before we drop the dumpster on the ground to protect your driveway.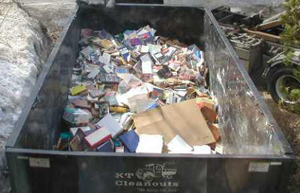 Use KT Cleanouts for Your Next Open Container Rental
KT Cleanouts™ is your independent solution for dumpster rentals. Our customers have used KT Cleanouts trash bin container rentals for trash & junk removal from their basements, attics, garages, sheds and yards. As a result, we've helped customers clear out the junk before they put the house on the market. And renting a dumpster from KT Cleanouts is a great way to get rid of debris from those construction and restoration projects. Our rates are the best around North Andover, MA and our service can't be beat.
We Want To Earn Your Business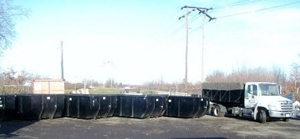 KT Cleanouts is family owned and operated — therefore, you get the best service and lower prices for our dumpster rentals. We've been in the junk removal/dumpster rental business since 2002. We serve the greater North Andover, MA and Southern New Hampshire area. We're fully insured and earned a FIVE star review rating at Google, Thumbtack and Yelp. Check out the reviews at
Google Reviews
,
Thumbtack Reviews
and
Yelp Reviews
.